Aussie Escape: Queensland's distributors of Wonderland RV
Get off the beaten track and experience life-changing adventures in style!
Wonderland RV specialise in luxury, off-road caravans built for the Australian caravanning adventurer. Whether you're a solo adventurer, a couple, or a family, the Wonderland RV range can be personalised to suit your needs and adventuring style.
With their high quality design, build and materials, Wonderland RV combines luxury and durability for the perfect Off-Roader experience.
BRING YOUR DREAM TO LIFE with wonderland rv
WHY YOU SHOULD SHOP WONDERLAND RV WITH AUSSIE ESCAPE
Why should you purchase Wonderland RV with the Aussie Escape team?
At Aussie Escape, we pride ourselves in working closely with our customers in order to fully understand what they are looking for. 
Once we have a firm grasp of your caravan dreams, we make sure to look after your needs and help you find the one that is right for you.
Our expert takes you through the whole process, from first consultation, to final purchase, so that you can start your adventure with a peace of mind!
Australian-made. Built tough. Luxury finish.
Meet the ultimate off-roader and the jewel of the Wonderland RV range. Fully loaded with all the luxury features, XTR was made to conquer the most extreme Australian landscapes with ease. It is the pinnacle of off-road caravanning.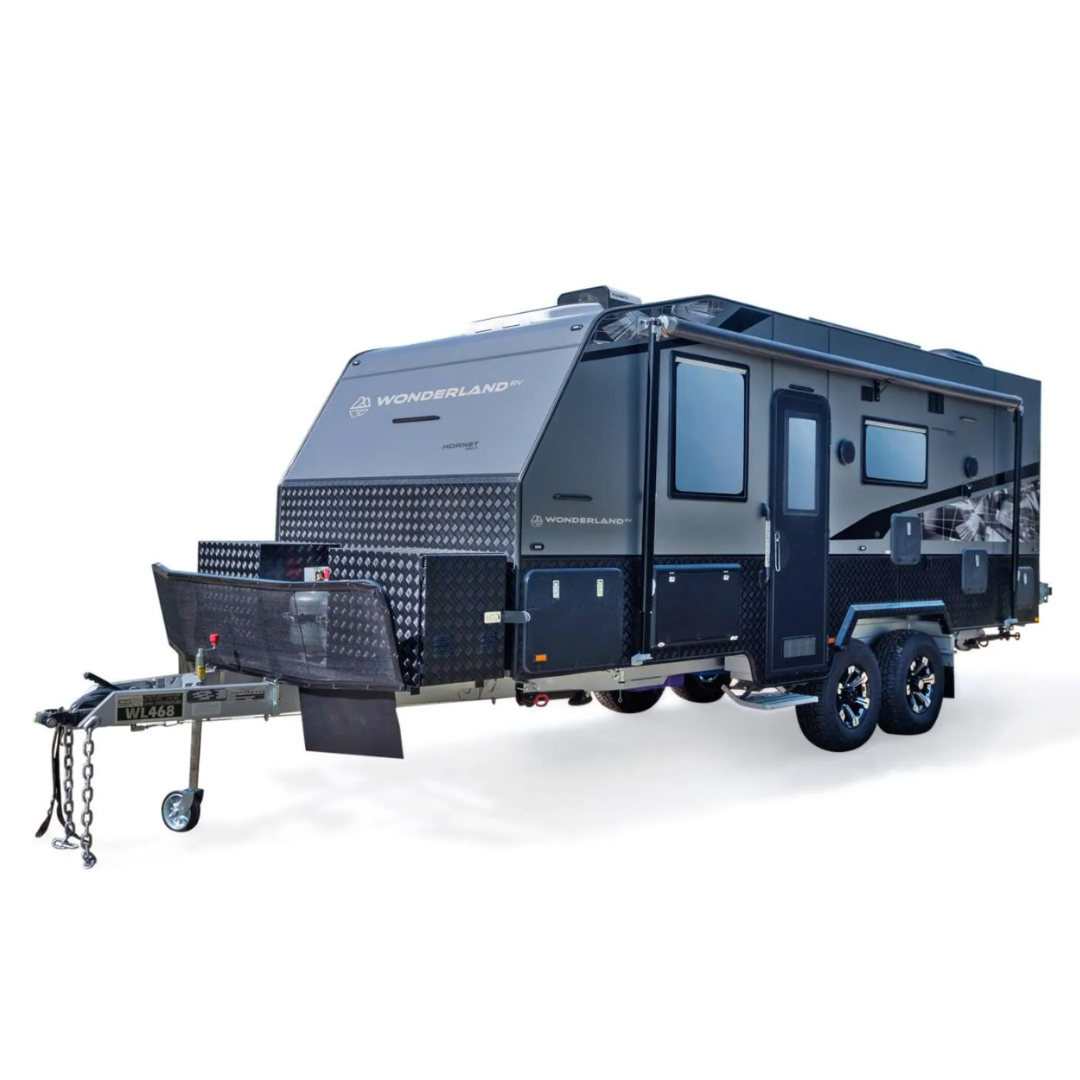 Go further and stay longer in Wonderland RV's HORNET.  Its self-sufficient set-up will get you further off the beaten track and keep you there for longer. Built to withstand the harshest Australian climate, this model provides you with a stylish and luxurious home away from home.
The great all-rounder that will get you the trip of a lifetime. Built to last, AMAROO features Wonderland RV's incredible standard inclusions, impeccable finishes and famous strength, durability and comfort. With beefed-up suspension, you're guaranteed a smooth ride for mountains of fun.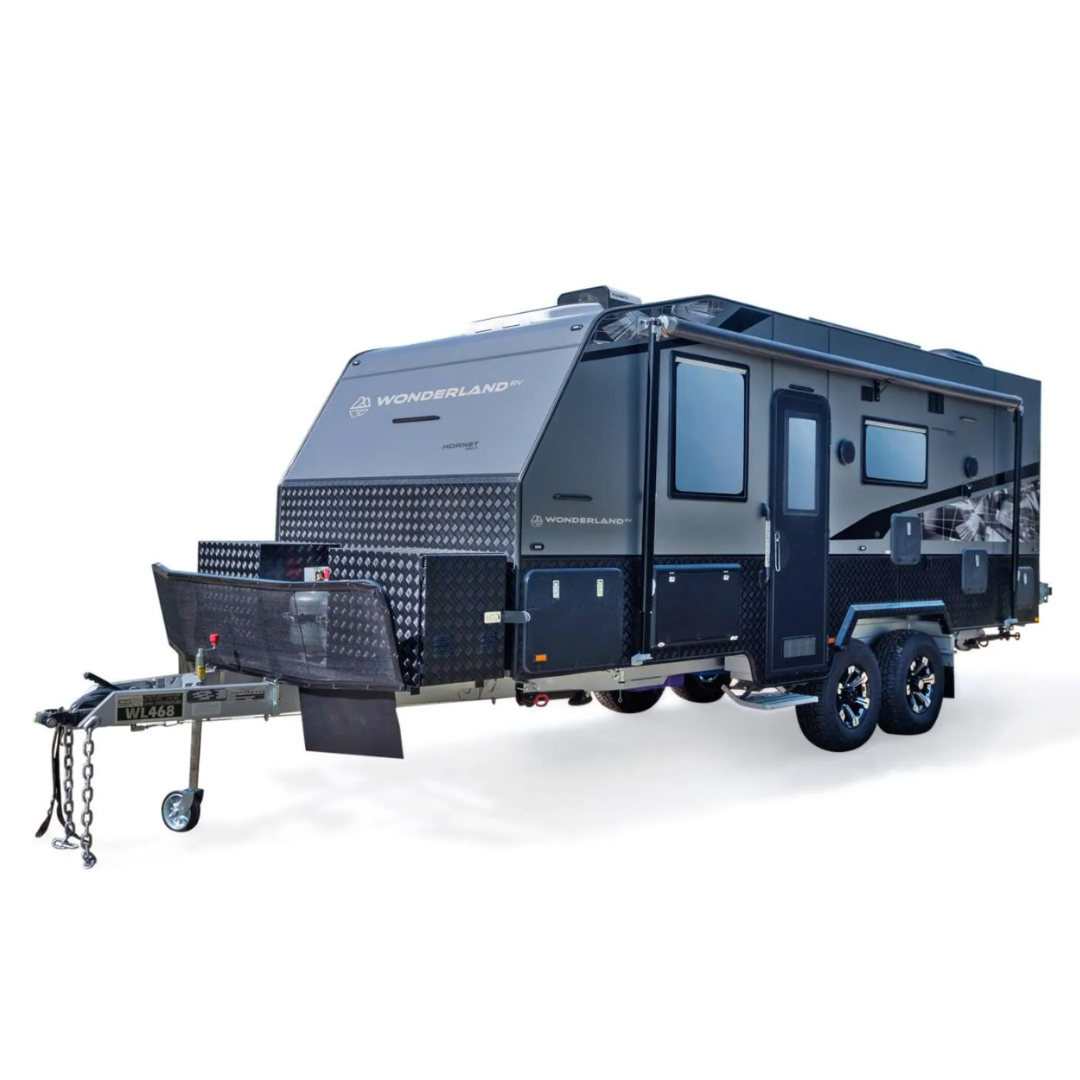 Say hello to the lightest and most affordable Wonderland RV of the range. ADVENTUS is the perfect entry-level, cross-country tourer for those who love the convenience of caravan parks, but want the option of free camping. Experience Wonderland RV luxury and comfort at your own pace.
"From our first interaction, Emma and the team from Aussie Escape have been fantastic. We wanted an off road family van for regular getaways and for travelling Australia down the track.  As this was our first van, there were many questions, none of which were ever a problem for this team along the way, often providing improvements to our ideas! We ordered a Wonderland Hornet 2200 triple bunk van. The van was delivered on time and has far exceeded our expectations. Workmanship is of a high level really making this our home away from home. At pick up it was all hands on deck from the team to ensure we were comfortable and equipped to drive away with our new van. They even weighed the car and van to provide us the knowledge of our weights from the beginning. A quality team and service."
"A big thank you to Emma who took the time today to show me through some of their Wonderful caravans. Emma took the time to show me through 5 or so caravans today and was very helpful with the information she provided. Coming from interstate to look at the Wonderland RV's it was great that someone had the time to show me around. Thank You."
Get in touch with emma today!
Our expert EMMA is more than happy to guide you through our Wonderland RV range, answer questions, and understand your needs to help bring your Caravan dream to life.
Frequently asked questions
Start your Wonderland Adventure with Aussie Escape today!